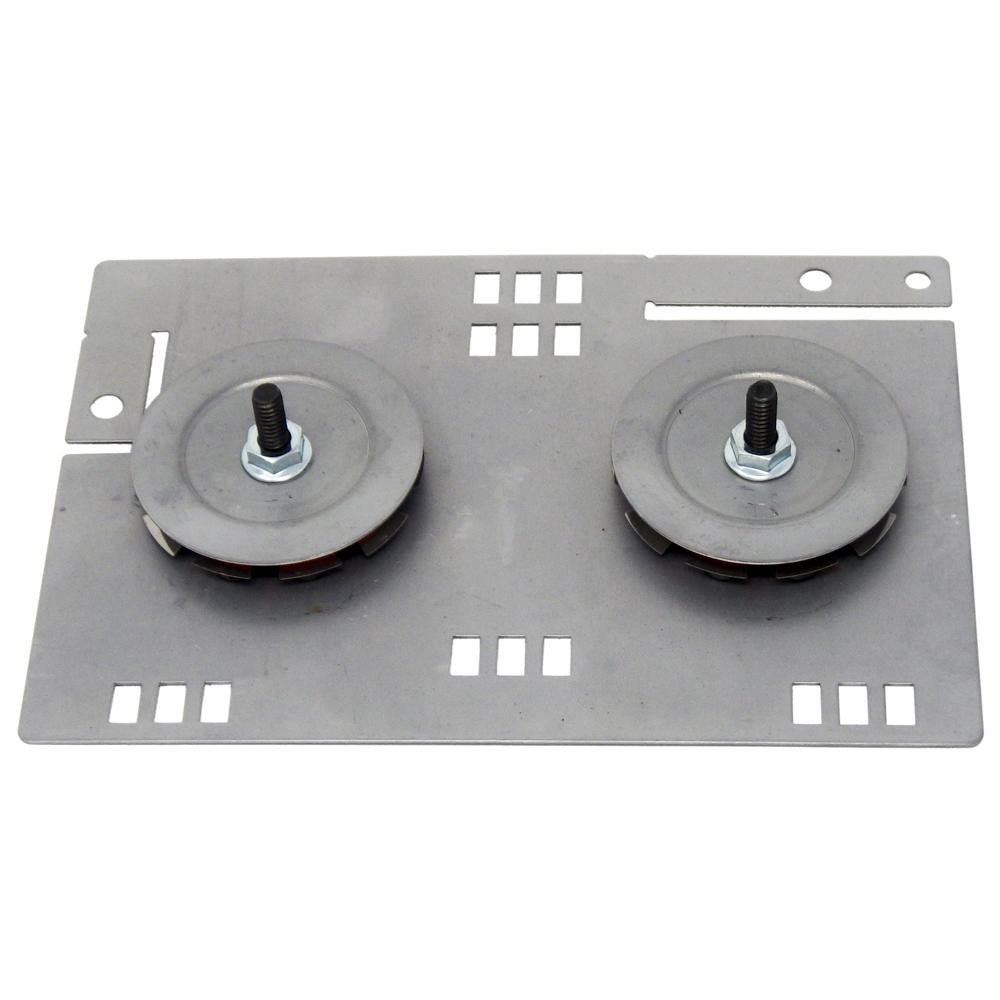 696609 Power Forged 60 Amp Rectifier Negative Base - Replaces Century 865-926-666, 865-682-666
Power Forged 60 Amp Rectifier Negative Base
Replaces Century 865-926-666, 865-682-666
Features:
• Fully assembled and tested.
• Dual diode assemblies, each with an array of 6 diodes, for a total of 12 diodes. Redundant capacity is designed in - if individual diodes fail, load is shifted to remaining functional diodes.
• Designed for chargers with the negative lead/clamp assembly connected to the rectifier heat sink plate, i.e. - Solar, Century, Dayton, Goodall brand chargers.
• Full-wave rectification.
• Designed to mount with insulated standoffs (not included).
• Includes nuts and washers for transformer secondary connection.
NOTE: CANNOT be repaired with 696610 Rectifier Rebuild Kit.
Cross Reference:
Century 865-926-666 (thin wire connections), 865-682-666 (heavy duty wires)
Grainger TT865682666G, Westward TT865682666G
Goodall 51-236
Specificatons
• 250 Amp Boost Rating
• 60 Amp Continuous Duty Rating
• Dual 6 x 25A/400PRV 10MM button diode arrays (12 diodes total)
• Each diode connects to the array via an independent, fusible link.
Depth: 1.25" (Includes length of secondary attachment studs)
Height: 5.0625"
Width: 7.375"
Weight (lbs.): 0.75
Fits Chargers
Models with 865-926-666 (thin wire connection): 141-289-000 Century 87402 50/25/2/220 amp portable
141-176 Century 40/2/200 amp battery charger w/test
141-186 Century 40/2/200 amp battery charger
141-187 Century 40/2/200 amp battery charger w/test
141-188 3Z632B Dayton 60/2/250 amp battery charger
141-190 Century 60 amp fleet battery charger
141-185 Matco 40/120 amp battery charger
141-198 71836 Sears 50/170 amp battery charger
141-202 Solar 480 60/40/2/250 amp battery charger
141-204 Century 60/2/250 amp battery charger
141-205 Power-Mate MC-18 Atlas 60/2/250 amp battery charger w/ test
141-206 Century 60 amp fleet battery charger
141-219 Century 660 87603 60/40/30/225 amp fleet battery charger
141-219-001A Century fleet battery charger (horizontal gauges)
141-219-001H Century 87603H fleet battery charger
141-224 Century 40/2/200 amp battery charger
141-227 Century 40/2/200 amp battery charger
141-228 Century 60 amp fleet battery charger
141-229 Goodall 60/2/250 amp battery charger w/test
141-230 Goodall 60/40/2/250 amp battery charger
141-234 Dayton 3Z991B 40/2/200 amp battery charger
141-252 Sears 716-500 battery charger
141-253 Sears 716-520 battery charger
141-254 Sears 50313 battery charger
141-255 Sears 71651 40/2/200 amp battery charger
141-260 Century 40/2/200 amp battery charger
141-267 Sears 71654 50/30/2/225 amp portable battery charger
141-268 Century 87502 40/20/2/200 amp battery charger
141-269 Century 220/50/25/2 amp battery charger
141-273 Century 87511 50/25/2/220 amp battery charger w/test
141-277-000A Century 87402 50/25/2/220 amp portable battery charger
141-280 Century 40/2/200 amp battery charger
141-281 Century 40/2/200 amp battery charger
141-282 Century 40/2/200 amp battery charger
141-297-000 Century 87602 60/40/2/250 amp battery charger w/ volt meter
141-297-000H Century 60 amp battery charger w/test
141-297-003 Matco BC95 60/40/2/250 amp battery charger w/ volt meter
141-297-902 Century 87602C 60/40/2/250 amp battery charger w/ volt meter
141-302-902 Century 87422-A 40/15/2/200 amp battery charger
141-302-000H Century 87422 40/15/2/200 amp battery charger
141-304-000 Century 87421 40/15/2/200 amp battery charger (no timer)
141-304-901 Century 87421C 40/15/2/200 amp battery charger (no timer)
141-304-901H Century 87421C 40/15/2/200 amp battery charger (no timer)
141-305-000H Century 87423 40/15/2/200 amp battery charger
141-307 Goodall 51800 60/40/2/250 amp battery charger
141-309 Canadian Tire 11-9996 50/30/2/225 amp battery charger
141-313-901 Canadian Tire 11-1563-8 60/40/2/250 amp battery charger w/ test (vertical meters)
141-313-902 Canadian Tire 11-1563-8 60/40/2/250 amp w/ test (horiz meters)
141-314-901 Canadian Tire 11-9998-6 40/2/200 amp battery charger (vertical meters)
141-314-902 Canadian Tire 11-9998-6 40/2/200 amp battery charger (horiz meters)
141-180 Solar 360 40/2/200 amp battery charger
141-181 Solar 550 60/40/2/250 amp battery charger w/ volt meter
141-182 Solar 480 60/40/2/250 amp battery charger
141-183 Solar 660 60/40/30/225 amp fleet battery charger
141-201 Solar 550 60/40/2/250 amp battery charger w/ volt meter
141-203 Solar 660 60/40/30/225 amp fleet battery charger
141-221 Solar 480 60/40/2/250 amp battery charger
141-245 Solar 840 40 amp gang battery charger
141-283 Solar 670 60/40/30/225 amp battery charger w/large volt meter
141-284 Solar 580 .3 to 60/250 amp (6/12volt) 10 amp fully-automatic battery charger
141-285 Solar 330 40/2/200 amp battery charger
141-286 Solar 440 40/15/2/200/300 amp battery charger w/ volt meter
141-287 Solar 560 60/40/2/250 amp battery charger w/ volt meter & indicator lights
141-288 Solar 670 60/40/30/225 amp battery charger w/large volt meters
141-304-902 Solar 330 40/2/200 amp battery charger
141-310 Solar 580 .3 to 60/250 amp (6/12volt) 10 amp fully-automatic
141-311 Solar 560 60/40/2/250 amp 6/12 Volt charger/starter/tester w/ timer
141-384 Solar 1440 battery charger
141-225 Century 87422 40/2/200 amp battery charger
141-388-801 OS6150 60/40 amp 6/12/24 Volt battery charger with engine start
K3149-1 Century 40/15/2/200/130 amp 6/12 Volt battery charger starter tester
K3150-1 Century 60/40/2/250/185 amp 6/12 Volt battery charger starter tester
K3151-1 Century 60/40/30/160/225 amp 6/12/24 Volt fleet battery charger starter
3LE84 Dayton 580 .3 to 60/250 amp (6/12volt) 10 amp fully-automatic battery charger
Models with 865-682-666 (heavy duty wires):
141-189 BCH067A Mac 60/40/2/250 amp battery charger
141-310 Solar 580 .3 to 60/250 amp (6/12volt) 10 amp fully-automatic
141-197 71832 Sears 50/2/200 amp battery charger
141-306 Century 87250 40 amp phase control battery charger
141-308 Solar 840 40 amp gang charger
141-324 Century 87424 battery charger
141-313-901 Canadian Tire 11-1563-8 60/40/2/250 amp battery charger w/ test (vertical meters)
3LE84 Dayton 580 .3 to 60/250 amp (6/12volt) 10 amp fully-automatic battery charger
3LE81 Dayton 60/40/2/250 amp battery charger
3LE82 Dayton 60/40/225 amp 6/12/24 volt fleet battery charger
3LE83 Dayton 40/15/2/200/130 amp 6/12 volt battery charger
1JYT9 Dayton 40/15/2/200/130 amp 6/12 volt battery charger
1JYU1 Dayton 60/40/2/250/130 amp 6/12 volt battery charger
1JYU2 Dayton 60/250/130 amp 6/12 volt battery charger
1JYU3 Dayton 60/40/250 amp 12/24 volt battery charger
141-303-901 Century 87530 50/30/2/225 amp battery charger
141-220 Century 60/40/2/250 amp battery charger w/ volt meter 87602
141-273 Century 87511 50/25/2/220 amp battery charger w/test
141-305-901 Solar 440 40/15/2/200/300 amp w/ volt meter