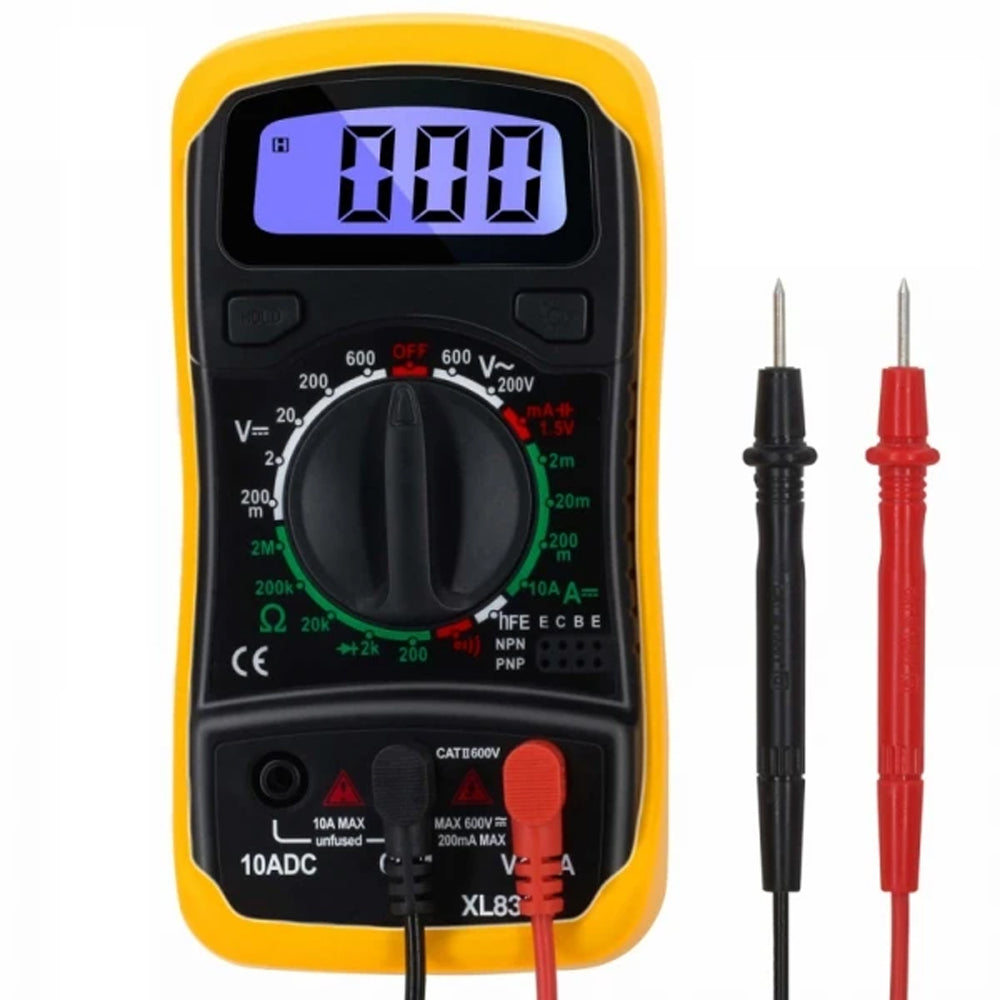 XL830L Handheld Digital Multimeter with Backlight & Shock-Guard
A multimeter is a must-have for the toolbox of anyone doing electrical work. This compact digital multimeter is a great value and is easy to operate. It combines all the functions you need to get the job done with an easy-to-read back-lit screen with a hold function.
What's in the box:
1  LCD Digital Multimeter
2  Test Leads
1  Shock Resistant Back Cover
1  English User Manual
Related Products:
XL830L-C EVA Hard Case
XL830L-K Multimeter & EVA Case Combo Kit
Features
• Large, back-lit LCD Display - 15mm high
• Max display: 1999, auto polarity display
• Shock-Guard holster protects against drops and shock
• Built-in stand for hands-free use
• Overload protection on all ranges
• Over-range Indication: Displays the digit "1"
• Polarity Indication: "-" displayed for negative polarity
• Low Battery Indication: "- /+" displayed
• Battery: 9V (not included)
• Fuse protection: F-200mA/250V
• Operating Temperature: -0 to 40
• Dimension: Approximately 5.5" x 2.75" x 1.25" (138mm x 69mm x 31mm"
Functions
• Diode assembly test/Transistor P-N junction test/Transistor HFE test
• Continuity test with aural buzzer
• Low battery voltage indication
• DC Voltage: 200mV/2V/20V/200V ±0.5%, 600V ±0.8%
• AC Voltage: 200V/600V ±1.2%
• DC Current: 200μA/2mA/20mA ±1%, 200mA ±1.5%, 10A ±3%
• Resistance: 200ω/2Kω/20Kω/200Kω/2Mω ±0.8%