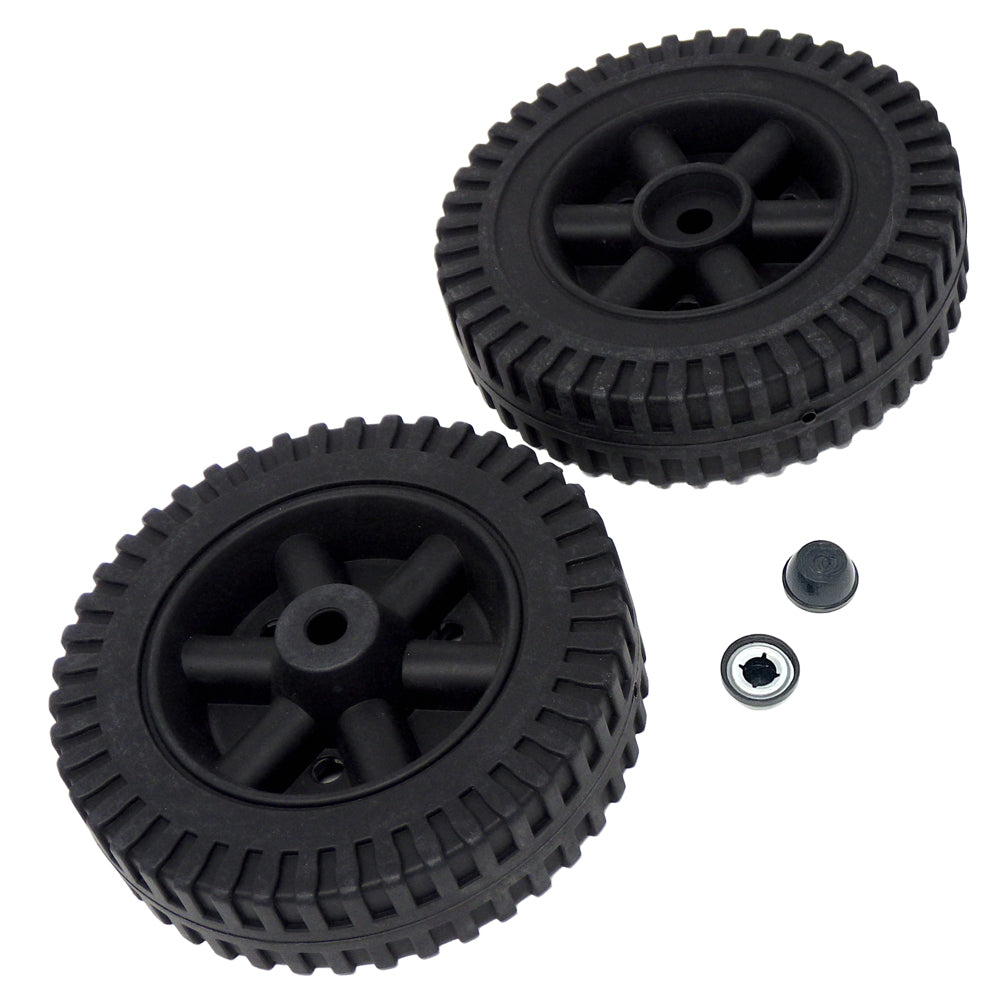 696561 - 2 Wheel Kit, 6" Black Hollow Plastic Wheels for Battery Chargers, fits 3/8" axle shaft, Includes Axle Caps
696561 - 2 Wheel Kit, 6" Black Hollow Plastic Wheels for Battery Chargers and other Equipment
Fits 3/8" axle shaft, includes Axle Caps
NOTE: Axle is NOT included.

Wheel Kit includes 1 pair of 6" black blow-molded (hollow) plastic wheels and steel axle caps, designed to fit 3/8" axle shaft. Axle caps are press-fit, no special tools required. For battery chargers with 3/8" axle shaft. Also used on barbecue grills and other light equipment, check dimensions for proper fit. 
UPGRADE INFORMATION: Effective with all April 2023 shipments, these wheels have been upgraded with over 41% more plastic in each wheel, increasing the wheel weight from 115 grams to 163 grams. While the original specification matched the OEM wheels used by many charger manufacturers, the new heavier wheel offers significant improvements in crush resistance and load capability. This upgrade reflects our commitment to offer the best quality and value possible.
Replaces these original equipment wheel sets:
Associated 605672 (used on Associated charger models 6006A, 6006AGM, 6008, 6009, 6009A, 6009AGM, 6011A, 6012, 6012AGM, 6016, 6017, 6019, 6021, 6023, 6512, 6512G, 8400, 8440, US18, US20)
Century 413-044-666
John Deere PT1598, PT16173, PT1937
For wheel only, see 696560.
For axle caps only, see 609081.

Specifications

Load Rating: 25 lbs. (each wheel)
Material: Plastic (hollow, blow-molded)
Weight per wheel: .36 lb. (163 grams)
Color: Black
Outside Diameter: 6.10" (155mm)
Track Width: 1.57" (40mm)
Hub Offset (spaces wheel track from cabinet): 0.16" (4mm)
Hub Width at Axle (length of bore): 1.35" (34mm)
Axle Bore Diameter: 0.40" (10.2mm) (accommodates 3/8" or 10mm diameter axle)
Warranty: 90 Day Limited Warranty against manufacturing defects. 
INSTALLATION NOTE
PLEASE NOTE THAT THESE WHEELS ARE FOR LIGHT-DUTY APPLICATIONS. DO NOT INSTALL THESE WHEELS ON 2-WHEEL EQUIPMENT THAT WEIGHS OVER 50 LBS. USE ONLY SMOOTH AXLE SHAFTS - DO NOT USE THREADED ROD. DO NOT USE SPACERS, SPRINGS OR SHIMS ON UNDERSIZE AXLES.
Related Items

609080 - Axle Cap Nut, Push-On 3/8" Steel - EA
609081 - Axle Cap Nut, Push-On 3/8" Decorative Black Plastic Pal Nut - EA
696560 - Wheel, 6" Black Hollow Plastic for Battery Chargers, fits 3/8" axle shaft
696561 - 2 Wheel Kit, 6" Black Hollow Plastic Wheels for Battery Chargers, fits 3/8" axle shaft, Includes Axle Caps
696562 - Wheel, 6" Black Plastic w/ Diamond Rubber Tread for Battery Chargers, fits 3/8" axle shaft" axle shaft
696563 - 2 Wheel Kit, 6" Black Plastic w/Diamond Rubber Tread for 3/8" Axle Shaft, includes Axle Caps
696564 - Wheel, 7" Black Plastic w/ Diamond Rubber Tread for Battery Chargers, fits 3/8" axle shaft
696565 - 2 Wheel Kit, 7" Black Plastic w/Diamond Rubber Tread for 3/8" Axle Shaft, includes Axle Caps