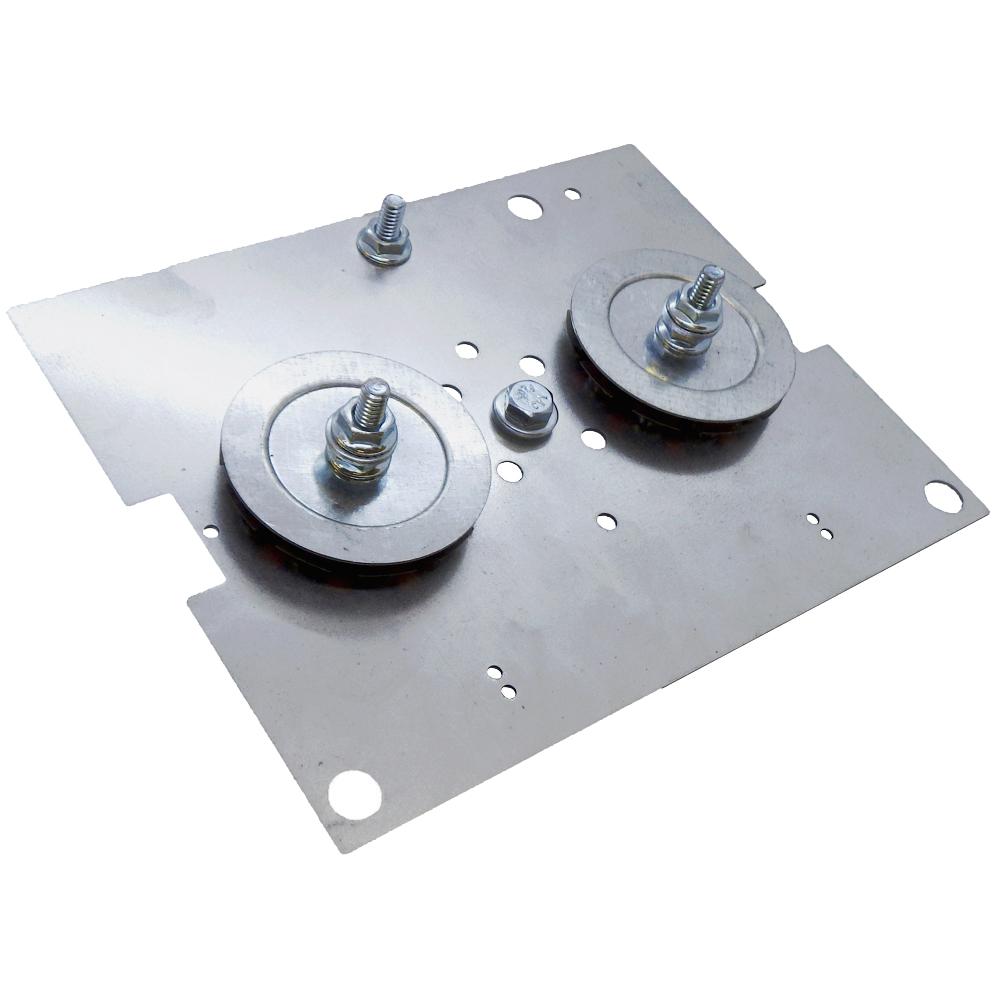 696601 - Power Forged 100 Amp Heavy-Duty Rectifier, Negative Base Replacement for Century, Solar and other "Negative Base" chargers
Our Heaviest-Duty Negative-Base Rectifier. Designed for use in chargers with continuous-duty output ratings up to 100 Amps, and "Boost" ratings up to 600 Amps!
This rectifier is a universal replacement for Century, Solar, and other "negative base" chargers at a fraction of the manufacturer's replacement part price!
Excellent replacement for selenium rectifiers found in older or vintage battery chargers.
Features
• Fully assembled and tested.
• Dual diode assemblies, each with an array of 10 diodes, for a total of 20 diodes. Redundant capacity is designed in - if individual diodes fail, load is shifted to remaining functional diodes.
• Robust capacity makes this the perfect replacement rectifier for a wide variety of high-output battery chargers, especially those with high "boost" ratings.
• Straightforward design makes it an easy retro-fit in almost any charger with a "negative base" rectifier - those chargers with the negative DC lead/clamp assembly connected to the rectifier heat sink plate, such as Century/Solar models.
Note - For chargers with the positive lead/clamp assembly connected to the rectifier heat sink plate, use rectifier number
696600
.
• Full-wave rectification.
• Equipped with center-mounted, insulated mounting bolt - installs fast with Rectifier Mounting Bracket Kit
696627
.
Specifications
• Dual 10 x 50A/400PRV 10MM button diode arrays (20 diodes total)
• Each diode connects to the array via an independent, fusible link.
• Depth: 1.65" (Including central mounting bolt: 2.65")
• Height: 6.00"
• Width: 7.75"
• Weight: 1.00
Related Products
696600 - 100 Amp Heavy-Duty Positive Base Rectifier (full size)
696602 - 80 Amp Heavy Duty Positive Base Rectifier (full size)
696604 - 100 Amp Heavy-Duty Positive Base Rectifier, Compact 
696605 - 100 Amp Heavy-Duty Negative Base Rectifier, Compact
696606 - 80 Amp Positive Base Rectifier, Compact
696607 - 80 Amp Negative Base Rectifier, Compact
696610 - Rectifier Rebuild Kit
696620 - Rectifier Extension Lead & Hardware Kit 
696624 - Circuit Breaker Kit w/Extension Leads & Hardware
696627 - Rectifier Mounting Bracket Kit