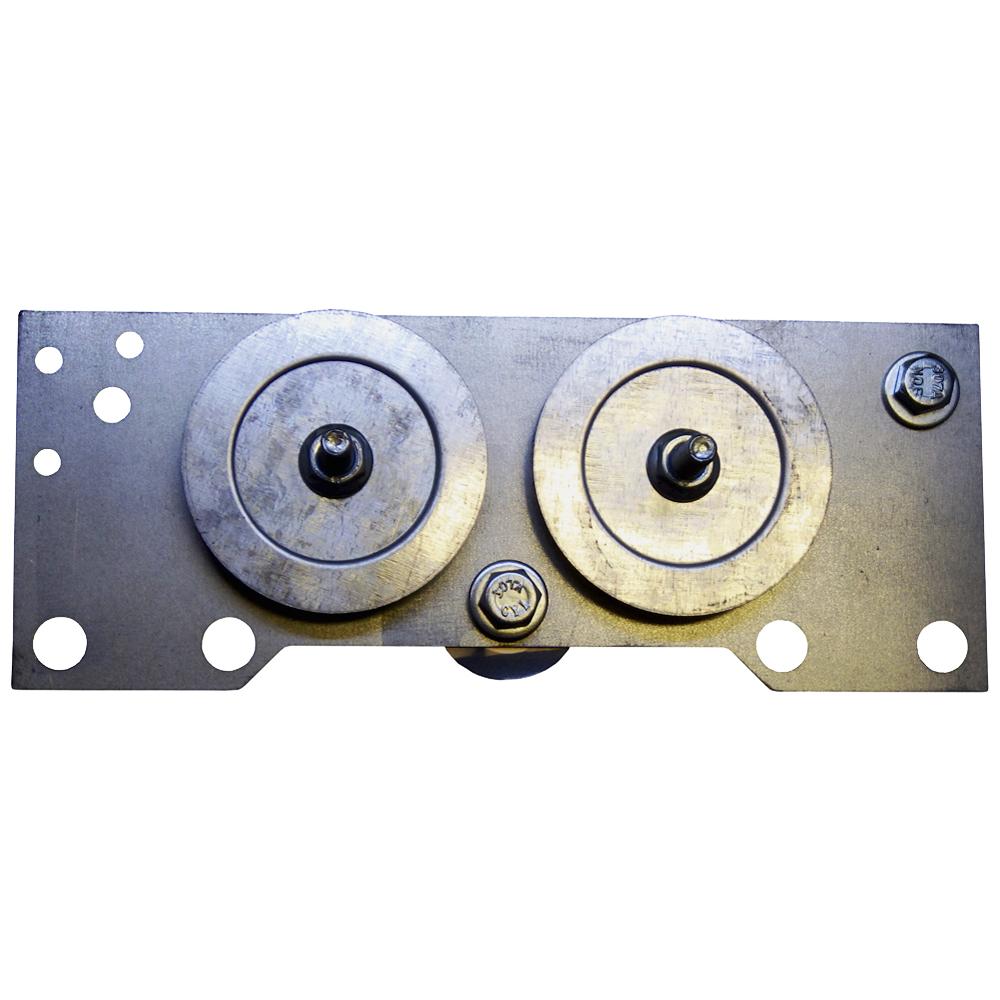 696606 - Power Forged 80 Amp Compact Rectifier Positive Base Direct Replacement for Associated Eqpt 610364, 610418, 610122
Heavy-Duty Compact Rectifier. Designed for use in chargers with continuous-duty output ratings up to 80 Amps, and "Boost" ratings up to 450 Amps.
This rectifier is a heavy-duty, 12-diode direct replacement for Associated P/N 610364 & 610418, as used in Associated Eqpt charger models 6008, 6009B, 6010A, 6010B, 6012, 6014, 6021, 6006, 6065, Cornwell ADS240FC, Cornwell ADS6012CW, Mac BCH7109, Mac BCH7115, MATCO MC500, Snap-On YA165A, Snap-On YA167A, Snap-On YA167B,etc.
Excellent replacement for selenium rectifiers found in older or vintage battery chargers.
Features
• Fully assembled and tested.
• Dual diode assemblies, each with an array of 6 diodes, for a total of 12 diodes. Redundant capacity is designed in - if individual diodes fail, load is shifted to remaining functional diodes.
• Robust capacity, compact design, and universal mounting capability makes this the perfect replacement rectifier for a wide variety of high-output battery chargers, especially those with high "boost" ratings. (may require Rectifier Mounting Kit
696627
- order separately)
• Straightforward, compact design makes it an easy retro-fit in almost any charger with a "positive base" rectifier - those chargers with the positive DC lead/clamp assembly connected to the rectifier heat sink plate.
Note - For chargers with the negative lead/clamp assembly connected to the rectifier heat sink plate, use rectifier number
696607
(i.e. - Solar & Century brand chargers).
• Full-wave rectification.
• Includes Resistor Kit - for Associated chargers equipped with "Stop/Go Lite" polarity protection technology. If your charger does not have this feature, do not install the resistor.
• Equipped with center-mounted, insulated mounting bolt - for direct mount in retro-fit applications with Rectifier Mounting Bracket Kit
696627
(order separately).
Specifications
• Dual 6 x 50A/400PRV 10MM button diode arrays (12 diodes total)
• Each diode connects to the array via an independent, fusible link.
• Depth: 1.65" (Including central mounting bolt: 2.65")
• Height: 3.00"
• Width: 7.75"
• Weight (lbs): 1.00
Related Products
696600 - 100 Amp Heavy-Duty Positive Base Rectifier (full size)
696601 - 100 Amp Heavy-Duty Negative Base Rectifier (full size)
696602 - 80 Amp Heavy Duty Positive Base Rectifier (full size)
696604 - 100 Amp Heavy-Duty Positive Base Rectifier, Compact 
696605 - 100 Amp Heavy-Duty Negative Base Rectifier, Compact
696607 - 80 Amp Negative Base Rectifier, Compact
696610 - Rectifier Rebuild Kit
696620 - Rectifier Extension Lead & Hardware Kit 
696624 - Circuit Breaker Kit w/Extension Leads & Hardware
696627 - Rectifier Mounting Bracket Kit