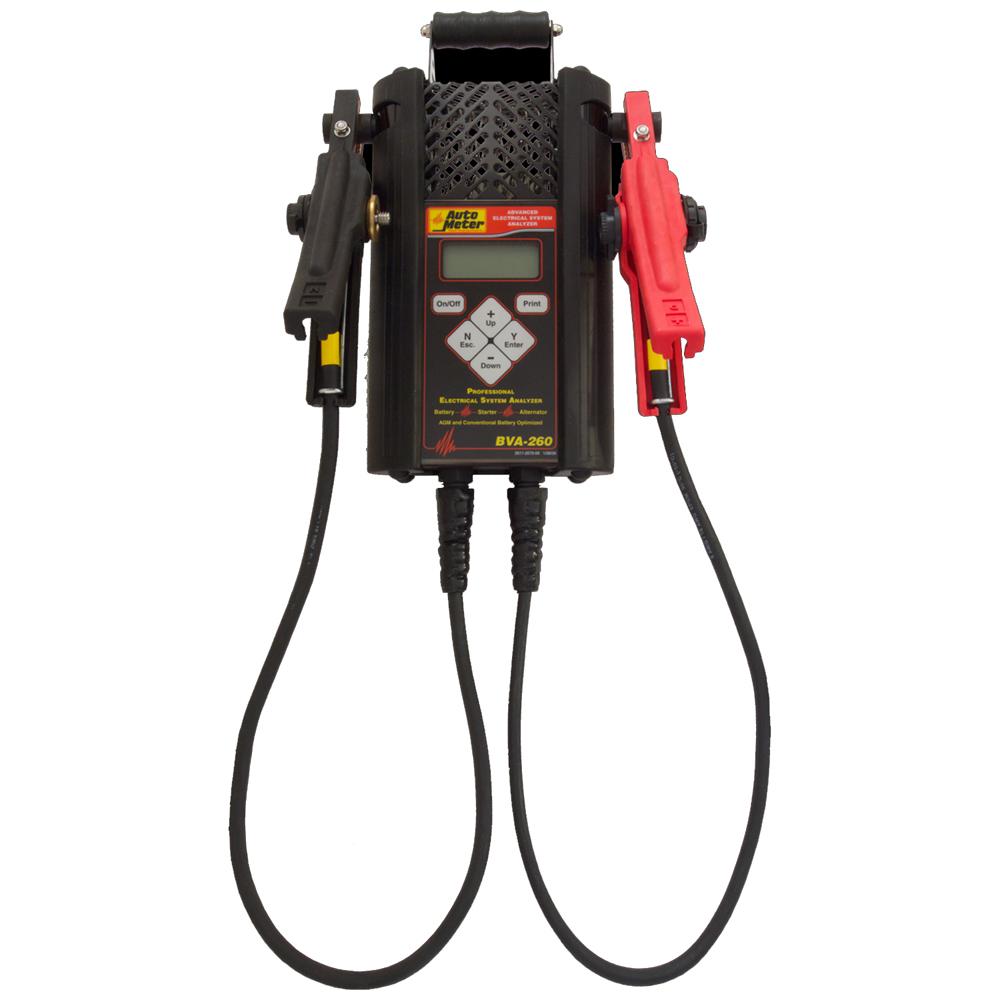 AutoMeter Professional Grade Intelligent Hand-Held 6/12V Electrical System Analyzer - BVA-260
One of the most technologically advanced handheld testers currently available, the BVA-260 sets the bar for accuracy, speed and ease of use. Using our patented Digital Pulse Load™ technology to deliver a BCI compliant true load test, the BVA-260 can precisely diagnose the battery, starting and charging system in under 82 seconds. This unit is AGM optimized for compatibility with nearly all battery types. This adds up to a tester that in many cases delivers a superior test result to even traditional Carbon Pile testers. A convenient USB output allows test data to be displayed as an Excel™ spreadsheet for nearly unlimited storage capacity and data analysis as well as easy software updates. Featuring a menu system revised to eliminate extra steps, nearly anyone can pick up the unit and use it right out of the box. Enhanced customer communications and "next step" messages aid in diagnosis and enhance credibility. The BVA-260 is also compatible via infrared with the AutoMeter PR-12 printer for easy communication with the customer.
• Best of Both World - Accuracy via Patented Resistance & Load Test
• Fully Automated Load
• Tests most battery and electrical systems - Flooded, AGM, Marine, AGM Marine
• Tests Battery, Starting System, Charging System in 82 seconds
• CCA and AH battery tests
• Easy Input via Menus
• Temp Sensor for Accuracy
• Export data to PC memory for unlimited test results storage
• Optimized customer communication for faster/better interaction
• Large and Mini USB Ports
• Easy-Link communication to PC via USB to optional AMP Link software (AC-62)
• Data Transfer via PC USB Cable (Included)
• Easy Firmware Updates
• Self Diagnostics for improved reliability
• Reverse polarity protected
• AMPnet Option
• 64 Character backlit LCD screen
• Customer Communication via infrared printer (Sold Separately)
• Convenient clamp storage
Features
• Tests 6V and 12V flooded and AGM batteries rated between 100-1600 CCA or 10-265 AH. Tests starting/charging circuits, discharged batteries, and detects bad cells.
• Automatically stores results of last 150 completed tests for easy review. Wirelessly communicates to optional test results printer via infrared or outputs to PC via AC-12 cable.
• Unlike competitor models, AutoMeter testers only require a single technician to run a full electrical system test due to our on-board 120 amp True Load cell. This eliminates the need to apply inconsistent loads, such as headlights, fans, etc. which makes for reliable results.
• English and Spanish language menus and test results.
• Charging system test results measure alternator current output, voltage regulation, and diode ripple delivering a pass or fail result.
• Easily upgraded for future tech enhancements using AutoMeter's exclusive AMP Link software.
• Advanced Digital Pulse Load (DPL) technology - patented test process and algorithm allowing operators of this product to rapidly measure a battery's ability to provide adequate cranking power necessary to start the vehicle without the need for time consuming charging.
• True-Load – This AutoMeter equipment is unique compared with other products on the market in that this tester has the ability to apply a known significant load (True-Load) directly through the tester connections allowing for a more rapid and accurate test result.
• 16 Gauge, 20" leads with professional grade clamps that are easily field serviceable.
• Intuitive menu driven operation, transmitted via backlit LCD screen for ease of use.
Specifications
• 
Load Test Capacity: 120 Amp
• 
Battery sizes: 100-1600 CCA
• 
Digital Back-Lit Display: 1" x 2.5" - 4 line x 16 character
• 
Volt Ranges: Digital 0-30
• 
Cooling: Vented
• 
Leads: Load Amp-2 1/2 ft., 6 Gauge
• 
Dimension: 5 7/8" x 9 1/2" x 1 7/8"
• 
Weight: 4 lbs.
• 
Memory: Stores the last 150 tests
• 
Internal Battery: 9 Volt Alkaline
Operator's Manual
Click here to open or download a PDF version of the Operator's Manual