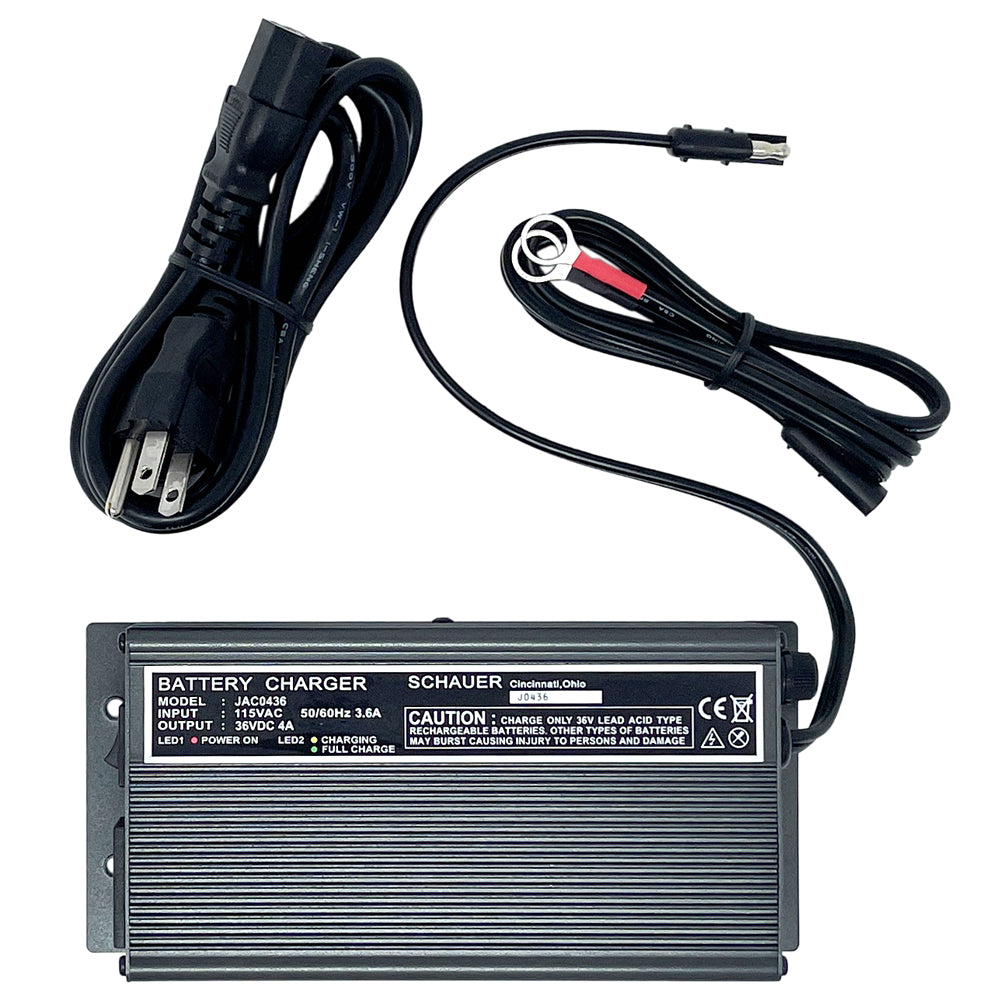 JAC0436-R - Schauer 36V, 4A Fully Automatic Electronic Charger/Maintainer - 115VAC - Ring Terminals (40AH MAXIMUM Battery Size)
Model JAC0436-R (0891-102)
Schauer JAC0436-R - 36V, 4A Intelligent Electronic Charger with Ring Terminals

The Schauer JAC0436-R is a Fully Automatic, 3-Stage Electronic Charger with Ring Terminal DC Leads. This Intelligent Charger may be left connected to the battery indefinitely, keeping it safely charged without danger of overcharging.

The JAC0436-R will charge any type lead acid battery, including conventional flooded cell, maintenance free, deep cycle, gelled-electrolyte, or AGM valve regulated batteries. For use on batteries up to 40AH rating (NOT FOR USE ON GOLF CARTS). To Maintain 36V Golf Cart Batteries, use Schauer JAC0336MAN Golf Cart Battery Maintainer.

The 3-Stage Charge Control provides Modified Constant Current Charge to a constant finishing voltage, then to a float/standby voltage to maintain the battery in a fully charged condition.
Features
• Fully Automatic with Float/Maintenance Mode
• May be left connected to batteries indefinitely
• Charges all types of lead acid batteries
• 115VAC Input
• Mountable, Aluminum case with LED status lights
• Current limiting
• Short Circuit and Reverse-Polarity protection (user-replaceable fuse)
• Capable of full current at 37.8V continuous - 100% duty cycle
Specifications
• Finish Voltage: 44.6V ±0.2
• Float Voltage: 39.7V ±0.2
• AC Input Voltage: 115VAC 50/60Hz (220/240VAC conversion available, see manual)
• AC Input Amps: 3.6A
• Nominal DC Output Volts: 36V
• Nominal DC Output Amps: 4A
• Minimum Battery Voltage Required to Start Charging: 12V
• AC Cord: 72", with grounded North America 115VAC plug (IEC C13 connector)
• DC Lead: 45", with 3/8" Ring Terminals (12" DC output lead, with replaceable 33" Ring Terminal adapter)
• Unit Length (case): 6.5" (not including mounting flanges)
• Unit Length (overall): 7.5" (includes mounting flanges)
• Unit Width: 3.5"
• Unit Height: 1.8"
• Unit Weight: 1.8 lbs.
• Approvals: UL/cUL, CE
• Warranty: 2 Year Limited
Operation
• Not intended for use as a DC power supply
• Operate in an environment with proper ventilation
• Do not operate in a damp or wet environment

LED Status Indicator Light in normal charge cycle:
• LED1 (Left): RED – AC power connected, Power Switch ON
• LED2 (Right): YELLOW – Charging, Bulk and Absorption stages - Fan On
• LED2 (Right): GREEN – Battery Charged, Charger in Maintenance Float mode - Fan Off

NOTE: If LED2 is GREEN when initially connected to a known discharged battery (rather than YELLOW, which indicates normal operation), there is a FAULT in the output connection. Check for the following conditions:
1. Charger Not Connected
2. Minimum Battery Voltage Not Sensed (12V minimum)
3. Output Fuse Blown (check the fuse under the twist cap)

NOTE: PLP Battery Supply recommends that chargers in this range have an amperage output that equates to a minimum of approximately 10-15% the AH capacity of the battery being charged. For example, this 4 amp charger would be appropriate for a battery with a maximum AH capacity of 40AH. Chargers with marginally low output ratings may result in unacceptably long battery charge times and/or damage to the charger.