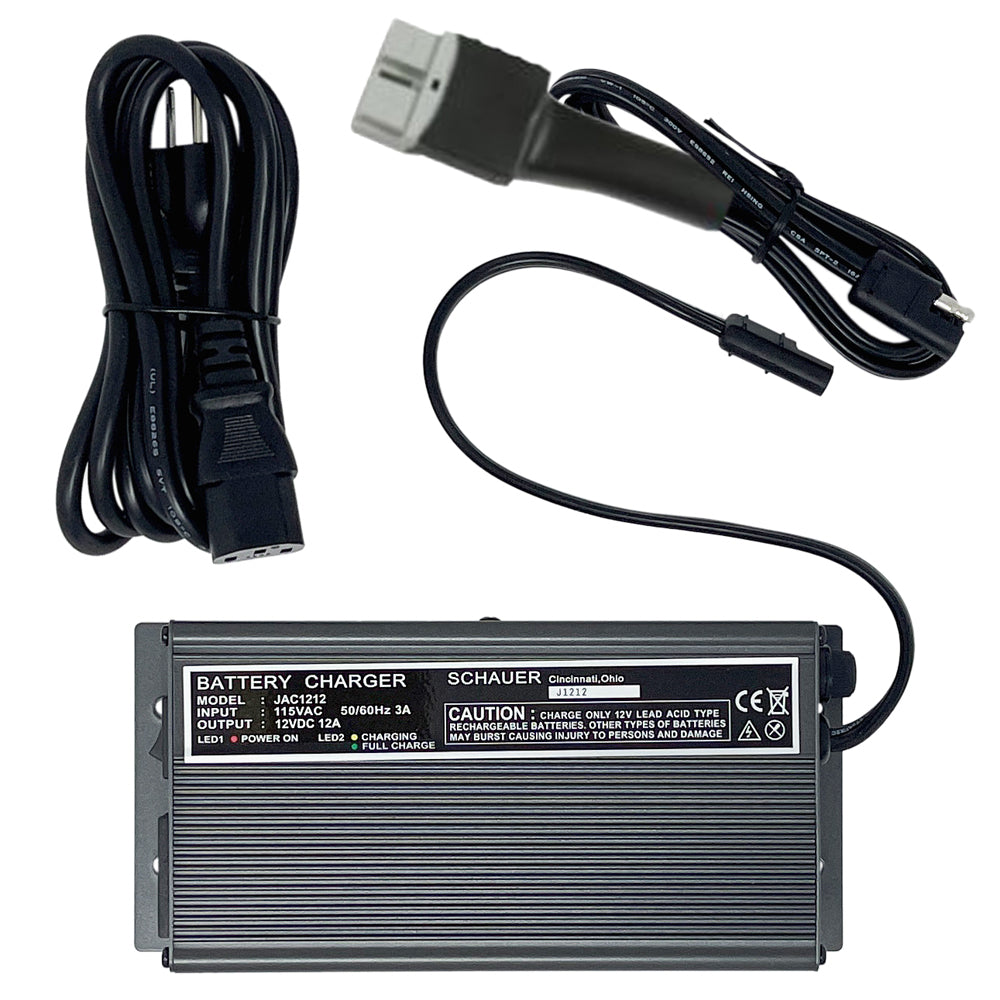 JAC1212-SB50- Schauer 12V, 12A Fully Automatic Electronic Charger/Maintainer - 115VAC - SB50 Gray Connector
 Model JAC1212-SB50 (0891-41SB50)
Schauer JAC1212-SB50 - 12V, 12A Intelligent Electronic Charger with Gray SB-50 DC Connector

The Schauer JAC1212-SB50 is a Fully Automatic, 3-Stage Electronic Charger with a Gray SB-50 Industrial DC Connector. This Intelligent Charger may be left connected to the battery indefinitely, keeping it safely charged without danger of overcharging.

The JAC1212-SB50 will charge any type lead acid battery, including conventional flooded cell, maintenance free, deep cycle, gelled-electrolyte, or AGM valve regulated batteries.

The 3-Stage Charge Control provides Modified Constant Current Charge to a constant finishing voltage, then to a float/standby voltage to maintain the battery in a fully charged condition.
Features
• Fully Automatic with Float/Maintenance Mode
• May be left connected to batteries indefinitely
• Charges all types of lead acid batteries
• 115VAC Input
• Mountable, Aluminum case with LED status lights
• Current limiting
• Short Circuit and Reverse-Polarity protection (user-replaceable fuse)
• Capable of full current at 12.6V continuous - 100% duty cycle
Specifications
• Finish Voltage: 14.8V ±0.2
• Float Voltage: 13.5V ±0.2
• AC Input Voltage: 115VAC 50/60Hz (220/240VAC conversion available, see manual)
• AC Input Amps: 3A
• Nominal DC Output Volts: 12V
• Nominal DC Output Amps: 12A
• Minimum Battery Voltage Required to Start Charging: 4V
• AC Cord: 72", with grounded North America 115VAC plug (IEC C13 connector)
• DC Lead: 45", with gray SB50 plug (12" DC output lead, with replaceable 33" SB50 adapter)
• Unit Length (case): 6.5" (not including mounting flanges)
• Unit Length (overall): 7.5" (includes mounting flanges)
• Unit Width: 3.5"
• Unit Height: 1.8"
• Unit Weight: 1.8 lbs.
• Approvals: UL/cUL, CE
• Warranty: 2 Year Limited
Operation
• Not intended for use as a DC power supply
• Operate in an environment with proper ventilation
• Do not operate in a damp or wet environment

LED Status Indicator Light in normal charge cycle:
• LED1 (Left): RED – AC power connected, Power Switch ON
• LED2 (Right): YELLOW – Charging, Bulk and Absorption stages - Fan On
• LED2 (Right): GREEN – Battery Charged, Charger in Maintenance Float mode - Fan Off

NOTE: If LED2 is GREEN when initially connected to a known discharged battery (rather than YELLOW, which indicates normal operation), there is a FAULT in the output connection. Check for the following conditions:
1. Charger Not Connected
2. Minimum Battery Voltage Not Sensed (4V minimum)
3. Output Fuse Blown (check the fuse under the twist cap)

NOTE: PLP Battery Supply recommends that chargers in this range have an amperage output that equates to a minimum of approximately 10-15% the AH capacity of the battery being charged. For example, this 12 amp charger would be appropriate for a battery with a maximum AH capacity in the 120AH-180H range. Chargers with marginally low output ratings may result in unacceptably long battery charge times.