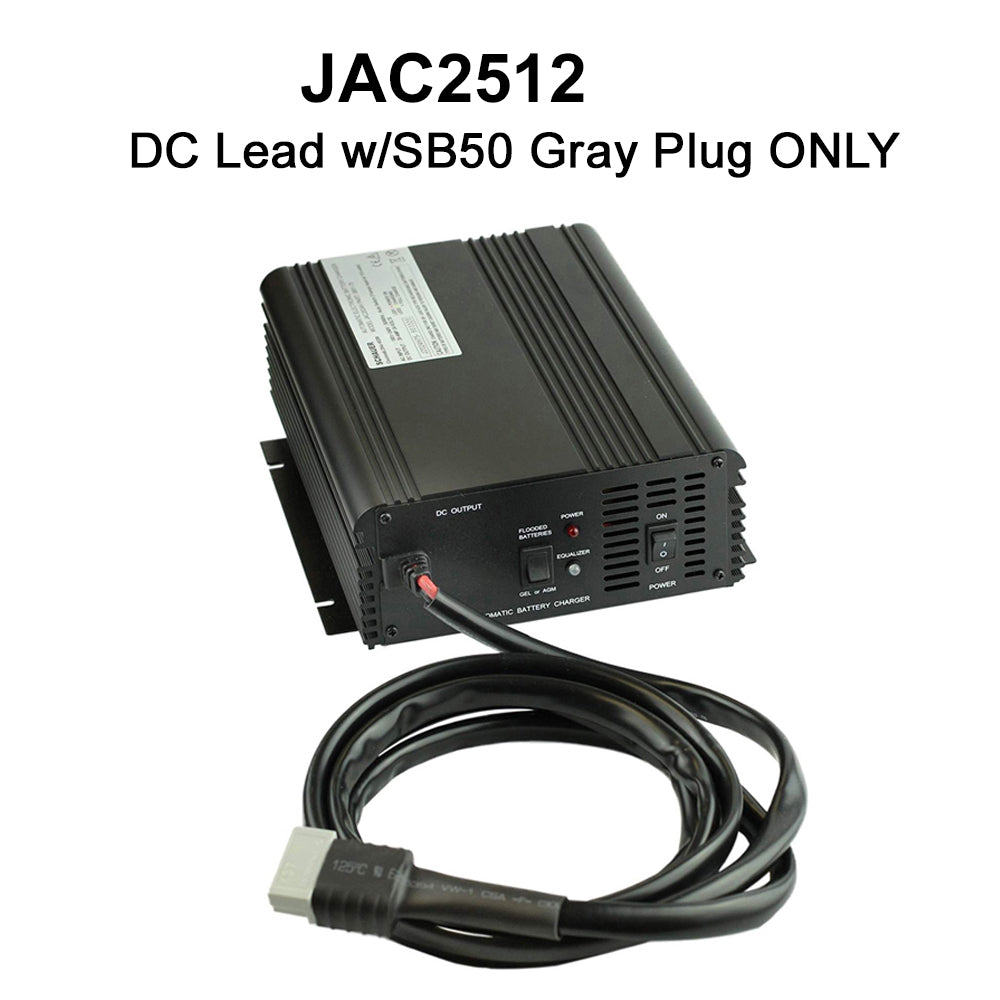 JAC2512 - Schauer 12V, 25A Fully Automatic Electronic Charger/Maintainer - Auto-Sensing 120/240VAC - Includes Choice of DC Connector
Model JAC2512 (0891-121)
Schauer JAC2512 - 12V, 25A Intelligent Electronic Charger with Float/Maintenance Mode

The Schauer JAC2512 is a Fully Automatic, 3-Stage Electronic Charger with a gray SB50 connector on the 96" DC Lead. Multiple DC Adapters are available to fit various applications. This Intelligent Charger may be left connected to the battery indefinitely, keeping it safely charged without danger of overcharging.

The JAC2512 will charge any type lead acid battery, including conventional flooded cell, maintenance free, deep cycle, gelled-electrolyte, or AGM valve regulated batteries. The 3-Stage Charge Control provides Modified Constant Current Charge to a constant finishing voltage, then to a float/standby voltage to maintain the battery in a fully charged condition.

The JAC2512 features a heavy-duty aluminum case with mounting flanges, and is suitable for on-board mounting in various industrial equipment. The charger automatically detects AC input voltage and operates on either 115V or 230V without user intervention. Supplied with a 72" grounded North America AC input cord equipped with IEC C13 plug for connection at the charger. For international use, simply replace with an AC cord equipped with a locality-appropriate mains power plug and IEC C13 connector.

ORDERING NOTE: This charger is equipped with a gray SB-50 connector on the DC Lead. Purchase options include your choice of a 12" Industrial Adapter lead that mates to the SB-50 plug. Select your plug from the choices on the right and note the product picture for your choice before adding the charger to your cart. Note that there are options for the SB50 connector ONLY (no adapter included). There is also an adapter with stripped wire leads, allowing you to attach your own connector, or make a permanent connection, while allowing the flexibility of disconnection at the SB50.
Features
• Fully Automatic with Float/Maintenance Mode
• May be left connected to batteries indefinitely
• Charges all types of lead acid batteries
• 115/230VAC Multi-Voltage Input
• Multiple DC Lead Adapters Available
• Mountable, Aluminum case with LED status lights
• Current limiting
• Short Circuit and Reverse-Polarity protection (user-replaceable fuse)
• Capable of full current at 25.2V continuous - 100% duty cycle
Specifications
• Flooded Finish Voltage: 14.8V ±0.2
• Gel/AGM Finish Voltage: 14.4V ±0.2
• Float Voltage: 13.5V ±0.2
• AC Input Voltage: Auto-Sensed 115/230VAC, 50/60Hz (115VAC +/-15%, 230VAC +/-15%)
• AC Input Amps: 15A @ 115VAC
• Nominal DC Output Volts: 12V
• Nominal DC Output Amps: 25A
• Minimum Battery Voltage Required to Start Charging: 4V
• AC Cord: 72", with grounded North America 115VAC plug (IEC C13 connector)
• DC Lead: 96", with gray SB50 plug
• Unit Length (case): 10.25"
• Unit Width (case): 7.13"
• Unit Width (overall): 8.38" (includes mounting flanges)
• Unit Height: 3.00"
• Unit Weight: 7.5 lbs.
• Shipping Length: 12"
• Shipping Width: 10"
• Shipping Height: 8"
• Shipping Weight: 9.0 lbs.
• Approvals: CE
• Warranty: 2 Year Limited
Operation
• Not intended for use as a DC power supply
• Operate in an environment with proper ventilation
• Do not operate in a damp or wet environment

LED Status Indicator Light in normal charge cycle:
• Upper LED (Power): RED – AC power connected, Power Switch ON
• Lower LED (Equalizer): OFF - Charger Not Connected or Connected and minimum battery voltage not sensed
• Lower LED (Equalizer): YELLOW – Charging stages Bulk and Absorption - cooling fan active
• Lower LED (Equalizer): GREEN – Green – Battery charged, Charger in Maintenance Float mode
• Flashing Red & Green LEDs: Safety Timer shut off function

NOTE: PLP Battery Supply recommends that chargers in this range have an amperage output that equates to a minimum of approximately 10-15% the AH capacity of the battery being charged. For example, this 25 amp charger would be appropriate for a battery with a maximum AH capacity in the 250AH-375AH range. Chargers with marginally low output ratings may result in unacceptably long battery charge times and/or damage to the charger.