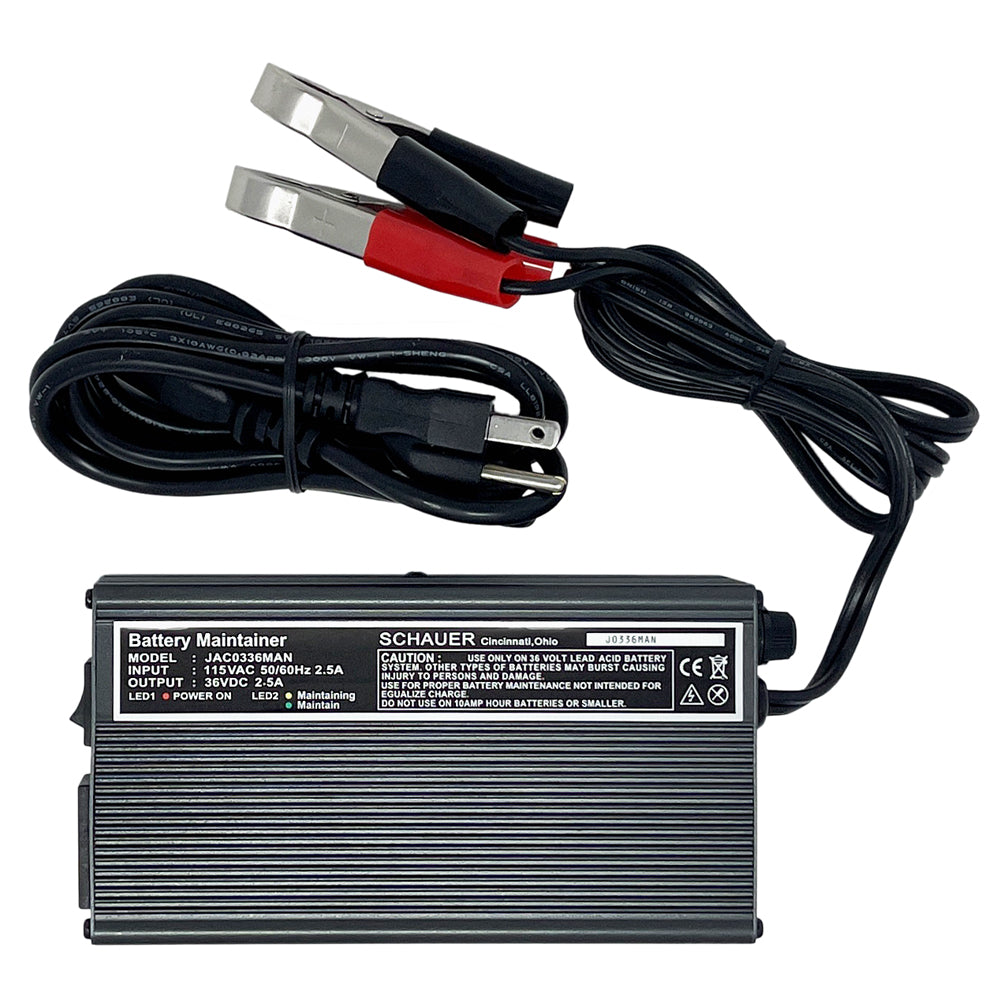 JAC0336MAN-SEC - REFURBISHED Schauer 36V, 2.5A Golf Cart Battery Maintainer - 115VAC - Battery Clips
Model JAC0336MAN-SEC (0891-103)
REFURBISHED Schauer JAC0336MAN - 36V, 2.5A Electronic Battery Maintainer with Battery Clips
This is a refurbished product. It has been used, and may have minor wear or other cosmetic imperfections. It has been repaired, fully inspected, and operationally tested, in order to provide "as-new" performance and service. The photo is a new item, but is representative of the refurbished product.
12 MONTH WARRANTY
Extend the life of your golf cart batteries with the Schauer JAC0336MAN Battery Maintainer. Simply connect it to your set of fully-charged batteries, and this maintainer will keep your batteries at full charge and prevent sulfation during periods of storage. The JAC0336MAN is designed to be connected to your batteries for extended periods, even months at a time - keeping them in peak condition and ready to go.

2-Stage Charge Control provides a 2.5A bulk charge to a constant finishing voltage of 39.7V, then to a float mode, providing only the amperage necessary to maintain the batteries at a float voltage of 39.7, depending upon their condition.

FOR 36 VOLT GOLF CARTS ONLY. PLEASE CHECK YOUR CART VOLTAGE BEFORE ORDERING.

NOTE: The JAC0336MAN is a BATTERY MAINTAINER, NOT A BATTERY CHARGER. It will keep your fully-charged golf cart batteries at a proper maintenance voltage, but it WILL NOT recharge a set of discharged golf cart batteries.

Features
• For 36 VOLT battery systems ONLY. Use on 10AH to 300AH lead acid batteries - typical of golf carts, industrial scrubbers, etc.
• Can be used for any type lead acid battery, including conventional, maintenance free, deep cycle, gelled-type, or AGM valve regulated batteries.
• Current limiting
• Short Circuit and Reverse-Polarity protection (user-replaceable fuse)
• Fully automatic maintainer can be left on the battery in maintaining/float mode. If AC power is interrupted, the maintainer will turn itself back on when AC power is restored.
• Aluminum case with 2 LED status lights
Specifications

• Finish Voltage: 39.7V ±0.2
• Float Voltage: 39.7V ±0.2
• AC Input Voltage: 115VAC 50/60Hz
• AC Input Amps: 2.5A
• Nominal DC Output Volts: 36V
• Nominal DC Output Amps: 2.5A
• Minimum Battery Voltage Required to Start Charging: 0V
• AC Cord: 72", with grounded North America 115VAC plug (IEC C13 connector)
• DC Lead: 45", with Battery Clips
• Unit Length (case): 6.5"
• Unit Width: 3.5"
• Unit Height: 1.8"
• Unit Weight: 1.8 lbs.
• Approvals: CE
• Warranty: 1 Year Limited on REFURBISHED PRODUCTS

Operation
• Operate in an environment with proper ventilation
• Do not operate in a damp or wet environment

The battery pack should first be fully charged with a primary charger. When primary charging is complete, remove the primary charger and connect the JAC0336MAN.

NOTE: THIS UNIT IS A BATTERY MAINTAINER, NOT A BATTERY CHARGER. IT WILL KEEP YOUR FULLY-CHARGED GOLF CART BATTERIES AT A PROPER MAINTENANCE VOLTAGE, BUT IT WILL NOT RECHARGE A SET OF DISCHARGED GOLF CART BATTERIES. If you use this unit on discharged golf cart batteries, damage to the unit will likely result, and the warranty will be voided.

Connection Sequence:
1) Attach positive (Red) battery clip to positive post of first battery in the series. (This post can be identified because it has a cable that does not connect to another battery. The cable from this post is connected to the positive side of the cart's electrical system.)
2) Attach Negative (Black) battery clip to negative post of last battery in the series. (As with the positive post connection, this post can also be identified because it has a cable that does not connect to another battery. The cable from this post is connected to the negative side of the cart's electrical system, or to a common ground.)
3) Plug maintainer into AC power.
4) Turn maintainer power switch on.
Use Caution! Incorrect connection across complete battery pack may cause battery over voltage/damage/fire/explosion.
NOTE: Since the maintainer is connected directly to the battery posts (and not charging through the golf cart system), the golf cart may be put in "tow" mode to avoid any load on the batteries while in maintenance.

The JAC0336MAN maintainer will provide 2.5 amp charging current until the battery voltage reaches 39.7V. Then it will hold float voltage at 39.7V and only provide the amount of current necessary to maintain the batteries at 39.7V, depending upon their condition. If the battery voltage is below 39.7V when the maintainer is connected, then it will cycle through this process.

LED Status Indicator Lights in normal charge cycle:
• LED 1 (Left): RED - AC Power connected, Power Switch ON
• LED 2 (Right): OFF - Battery not connected / Fuse Blown
• LED 2 (Right): YELLOW - High Current mode - 2.5-0.5A output. Fan: HIGH
• LED 2 (Right): GREEN - Low Current mode - ≤1A output. Fan: OFF