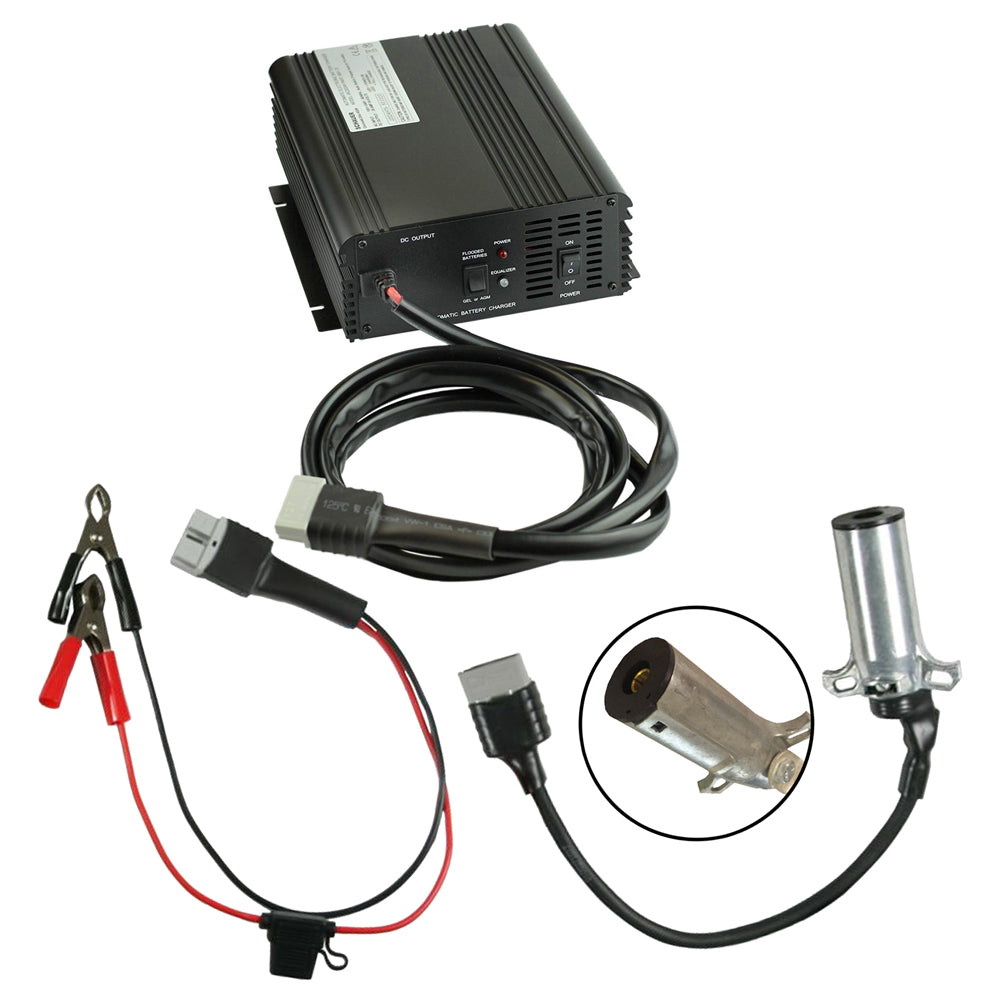 JAC2512-PC - Schauer 12V, 25A Aircraft Power Supply & Fully Automatic Battery Charger with Piper Plug and Battery Clips
Model JAC2512-PC (0891-121PC)
Schauer JAC2512-PC - 12V, 25A Aircraft Power Supply & Intelligent Electronic Charger with Piper Single-Pin Plug and Battery Clips

Avoid draining the battery in your aircraft while you conduct ground avionics training, familiarization, maintenance or download updates. The AC cord goes to a standard wall outlet, and the Piper style plug goes to the external power outlet on your flying machine, providing ground power and eliminating worries about a dead battery while you've got all the switches on. When you're done, swap the plug for the included battery clips and hook it up to your battery - it also functions as a Fully Automatic Electronic Battery Charger with Float/Maintenance Mode. This charger may be left connected for extended periods without damaging your battery. The JAC2512-PC is for aircraft with 12V (14V) electrical systems, and which use a Piper style single-pin aircraft plug.

The Schauer JAC2512-PC is both a 12V Power Supply and a Fully Automatic, 3-Stage Electronic Charger with a gray SB50 connector on the 96" DC Lead. Unlike the standard JAC2512, this unit will supply 12V DC output without any voltage sensed at the DC leads.

The JAC2512-PC will charge any type lead acid battery, including conventional flooded cell, maintenance free, deep cycle, gelled-electrolyte, or AGM valve regulated batteries. The 3-Stage Charge Control provides Modified Constant Current Charge to a constant finishing voltage, then to a float/standby voltage to maintain the battery in a fully charged condition.

The JAC2512-PC features a heavy-duty aluminum case with mounting flanges. The charger automatically detects AC input voltage and operates on either 115V or 230V without user intervention. Supplied with a 72" grounded North America AC input cord equipped with IEC C13 plug for connection at the charger. For international use, simply replace with an AC cord equipped with a locality-appropriate mains power plug and IEC C13 connector.
Features

• MAY BE USED AS A 12V DC POWER SUPPLY
• Operate avionics on the ground (not meant for engine starting)
• Includes Piper style Single-Pin Female aircraft plug, and battery clip adapter
• Low voltage start: will start charging a deeply discharged battery with ZERO terminal voltage
• Fully Automatic with Float/Maintenance Mode
• May be left connected to batteries indefinitely
• Charges all types of lead acid batteries
• 115/230VAC Multi-Voltage Input
• Multiple DC Lead Adapters Available
• Mountable, Aluminum case with LED status lights
• Current limiting
• Short Circuit and Reverse-Polarity protection (user-replaceable fuse)
• Capable of full current at 12.6V continuous - 100% duty cycle
Specifications
• Flooded Finish Voltage: 14.8V ±0.2
• Gel/AGM Finish Voltage: 14.4V ±0.2
• Float Voltage: 13.5V ±0.2
• AC Input Voltage: Auto-Sensed 115/230VAC, 50/60Hz (115VAC +/-15%, 230VAC +/-15%)
• AC Input Amps: 15A @ 115VAC
• Nominal DC Output Volts: 12V
• Nominal DC Output Amps: 25A
• Minimum Battery Voltage Required to Start Charging: 0V
• AC Cord: 72", with grounded North America 115VAC plug (IEC C13 connector)
• DC Lead: 96", with gray SB50 plug (also includes Piper style Single-Pin Female aircraft plug, and battery clip adapter)
• Unit Length (case): 10.25"
• Unit Width (case): 7.13"
• Unit Width (overall): 8.38" (includes mounting flanges)
• Unit Height: 3.00"
• Unit Weight: 7.5 lbs.
• Shipping Length: 12"
• Shipping Width: 10"
• Shipping Height: 8"
• Shipping Weight: 9.0 lbs.
• Approvals: CE
• Warranty: 2 Year Limited
Operation

• MAY BE USED AS A 12V DC POWER SUPPLY
• Operate in an environment with proper ventilation
• Do not operate in a damp or wet environment

LED Status Indicator Light in normal charge cycle:
• Upper LED (Power): RED – AC power connected, Power Switch ON
• Lower LED (Equalizer): OFF - Charger Not Connected or Connected and minimum battery voltage not sensed
• Lower LED (Equalizer): YELLOW – Charging stages Bulk and Absorption - cooling fan active
• Lower LED (Equalizer): GREEN – Green – Battery charged, Charger in Maintenance Float mode
• Flashing Red & Green LEDs: Safety Timer shut off function

NOTE: PLP Battery Supply recommends that chargers in this range have an amperage output that equates to a minimum of approximately 10-15% the AH capacity of the battery being charged. For example, this 25 amp charger would be appropriate for a battery with a maximum AH capacity in the 250AH-375AH range. Chargers with marginally low output ratings may result in unacceptably long battery charge times and/or damage to the charger.