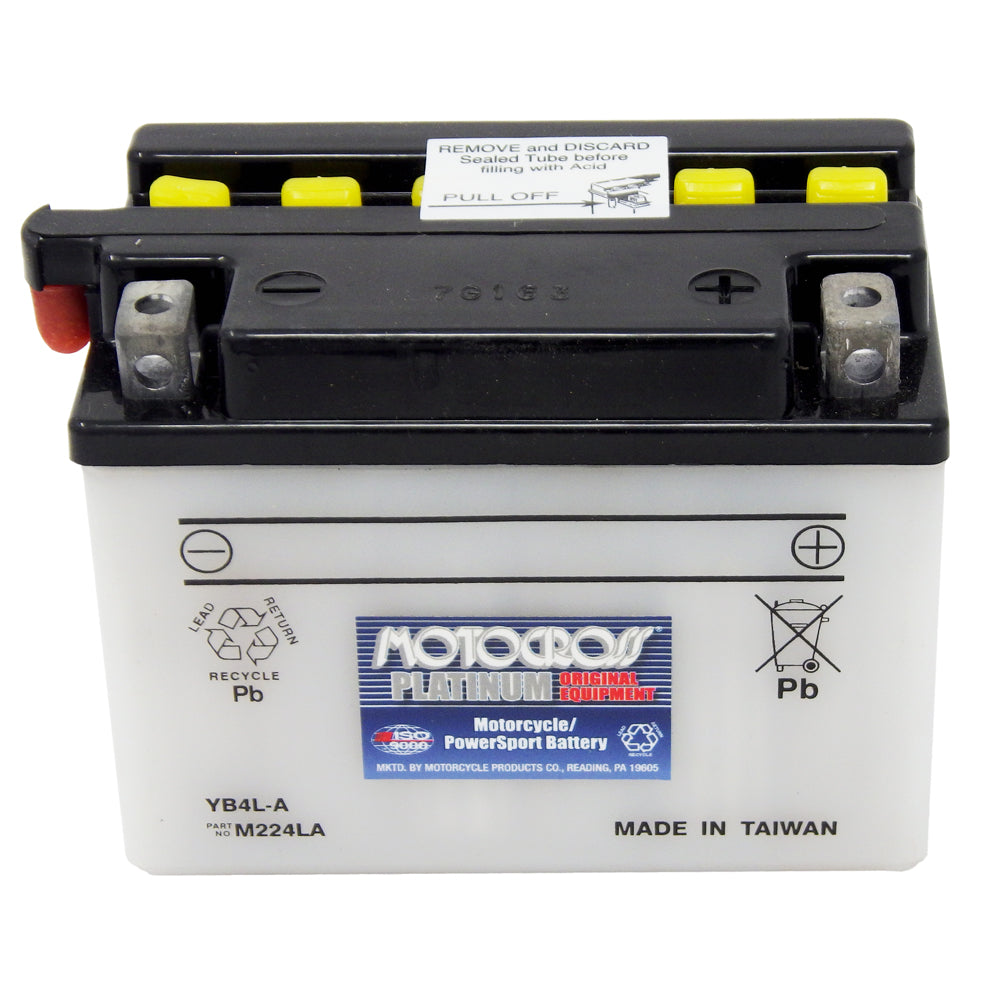 YB4L-A High Perf Conv 12V MC Battery, Dry Charged 4 AH, M224LA
YB4L-A High-Performance Conventional Motorcycle Battery (flooded cell) with vent tube (if applicable) and terminal hardware. Battery is dry-charged and sealed, with separate bottle of electrolyte included.
NOTE: YUASA ships this part number to us as either YUASA brand or MOTOCROSS brand, depending on their inventory. Consequently, we have both brands in stock under the same SKU and ship them interchangeably. When you order this SKU, you may receive either brand. It is the same battery.
Click here for a link to a short instructional video on how to fill your battery.

SHIPPING NOTE: This battery cannot be shipped after it has been filled with electrolyte.
Yumicron Series Features
• Special thin separators – allow two extra plates per cell to be installed, for a 30% improvement in cranking performance
• Engineered to protect against corrosion, withstand vibration, and deliver high cranking power
Notes & Cross Reference
Upgrade to AGM with
YTX4L-BS
Upgrade to High-Performance AGM with
YTZ5S-BS
Specifications
Capacity AH (10-HR): 4
CCA @ 0°F: N/A
Length: 4 3/4 in (120 mm)
Width: 2 3/4 in (70 mm)
Height: 3 5/8 in (92 mm)
Weight w/out Acid (DRY): 2.8 lbs
Terminal Type: 5
Acid Volume: 10.1 oz
Std Charge Rate: 0.4 Amp
Country of Origin: Taiwan
Download Dry Charged Battery Safety Data Sheet
Download Electrolyte Safety Data Sheet