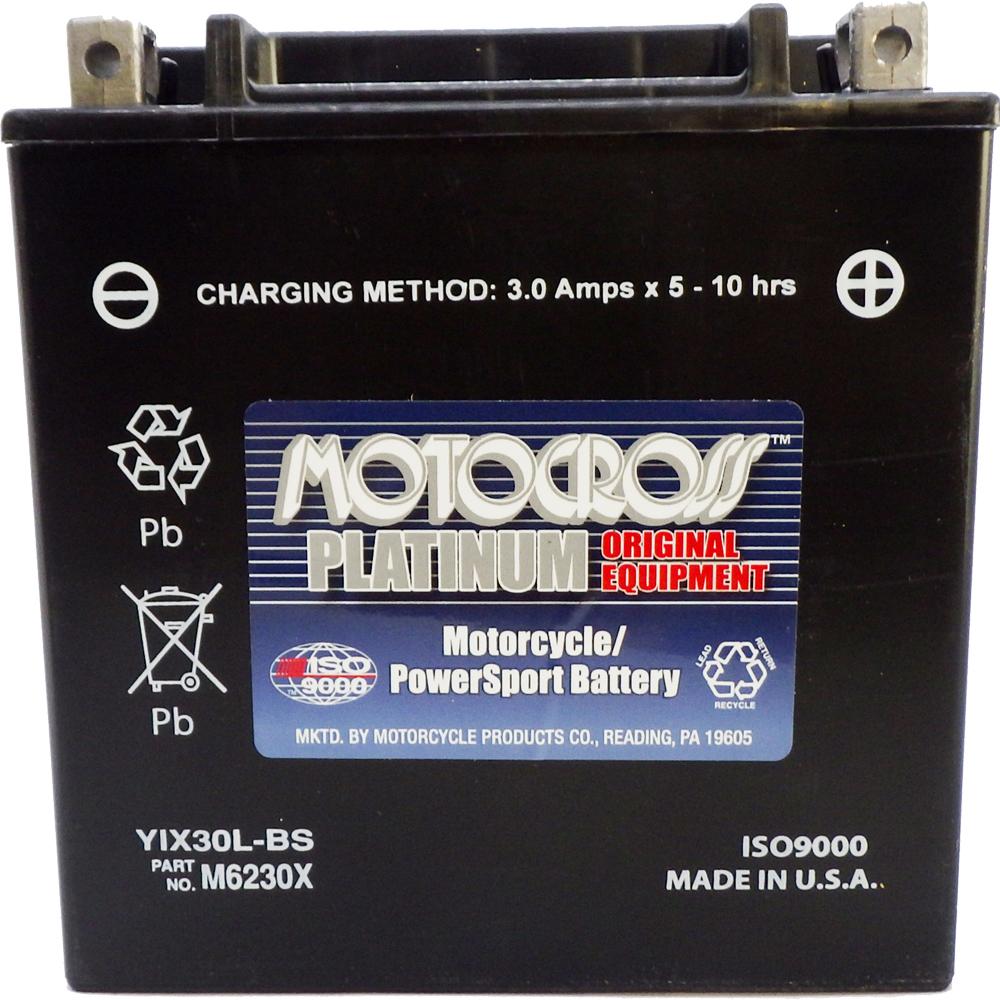 YIX30L-BS 12V AGM MC Battery, Dry Charged w/Acid Pack 30 AH, 400 CCA M6230X
YIX30L-BS High-Performance YIX Series AGM Battery for Powersports, with terminal hardware. Sealed, non-spillable, and Maintenance-Free.
SHIPPING NOTE: YIX Series batteries are stocked dry-charged and include a battery-specific, pre-measured electrolyte pack (battery acid) in the box. Normally, PLP Battery Supply will ship the battery to you as stocked and you will need to fill it per the included instructions, which is not difficult -
click here
for a link to a short instructional video. If you would like us to fill and activate the battery prior to shipment, simply note that you would like the battery to be "filled and activated" in the special shipping instructions at checkout. There is no additional charge for this service; however, your shipment may be delayed until the next day. Please note that you should only fill AGM batteries with the supplied elctrolyte, and not with automotive electrolyte designed for filling standard flooded-cell batteries, the specific gravity of the two types of electrolyte are different.
YIX(H) Series Features
• H Series – increased power, up to 30% more CCA over AGM Series • Improved cold climate performance • Premium absorbed glass mat (AGM) technology • Sealed, Maintenance Free, Non-spillable design – NEVER add water (periodic charging required when not in use) • Meets or exceeds Powersports OEM specs • Engineered to protect against corrosion, withstand vibration, and deliver high cranking power • Polypropylene cover and container – superior resistance in extreme conditions of cold and heat, more flexible than ABS material
Notes & Cross Reference
Replaces
YB30L-B
,
YIX30L
Can replace
12N24-3A
,
53030
,
Y60-N24AL-B
Upgrade to High-Performance GYZ Series AGM with
GYZ32HL
Upgrade to PowerSonic Hyper Sport LiFePO4 Lithium with
PAL30LHY-H
Specifications
Capacity AH (10-HR): 30
CCA @ 0°F: 400
Length: 6 9/16 in (166 mm)
Width: 5 in (126 mm)
Height: 6 7/8 in (175 mm)
Weight w/Acid: 22.0 lbs
Terminal Type: 4
Acid Volume: 1.40 L
Std Charge Rate: 3.0 Amp
Country of Origin: USA
Download Activated AGM Battery Safety Data Sheet 
Download Dry Charged Battery Safety Data Sheet
Download Electrolyte Safety Data Sheet